Curtains remain the most popular type of window decoration. They allow light to pass through, provide privacy, and accentuate the décor. But how do you choose the suitable curtains for your space? These steps will help you make the best choice!
Step 1: Determine Their Function
Curtains are not only visually pleasing but also functional. First, let's look at each space and the curtains that fit it.
The most essential function of a bedroom is to get a good night's sleep. For this reason, thick, light-blocking curtains are chosen for this room. This is useful when the weather is nice and dark.
A little more light might be pleasant in a living room or office. For privacy, you can also opt for sheer curtains. Is your home poorly insulated? Then it would help if you chose curtains of a thicker fabric. It will protect you and keep out the cold.
Do you have windows near the stove? Considering oil and water splatter, a different form of kitchen window decoration may be more reasonable.
Step 2: Select Fabrics
Now that you know which type of curtain is best suited for your space, it's time to focus on the fabric. Again, there are several choices. Let's briefly discuss the most important properties of the most common material.
Cotton: natural and durable. Easy to care for: machine washable, but often leaves wrinkles. Fortunately, simply ironing can solve this problem. Please note that dark, bright colours may fade in bright sunlight.
Polyester: Synthetic fiber. Slightly lighter in weight but durable and easy to maintain. It is also machine washable. The colour does not fade quickly under sunlight.
Linen: Unique and natural look that suits rustic interiors. Please note that dark and light colours may fade in bright sunlight. Machine washable.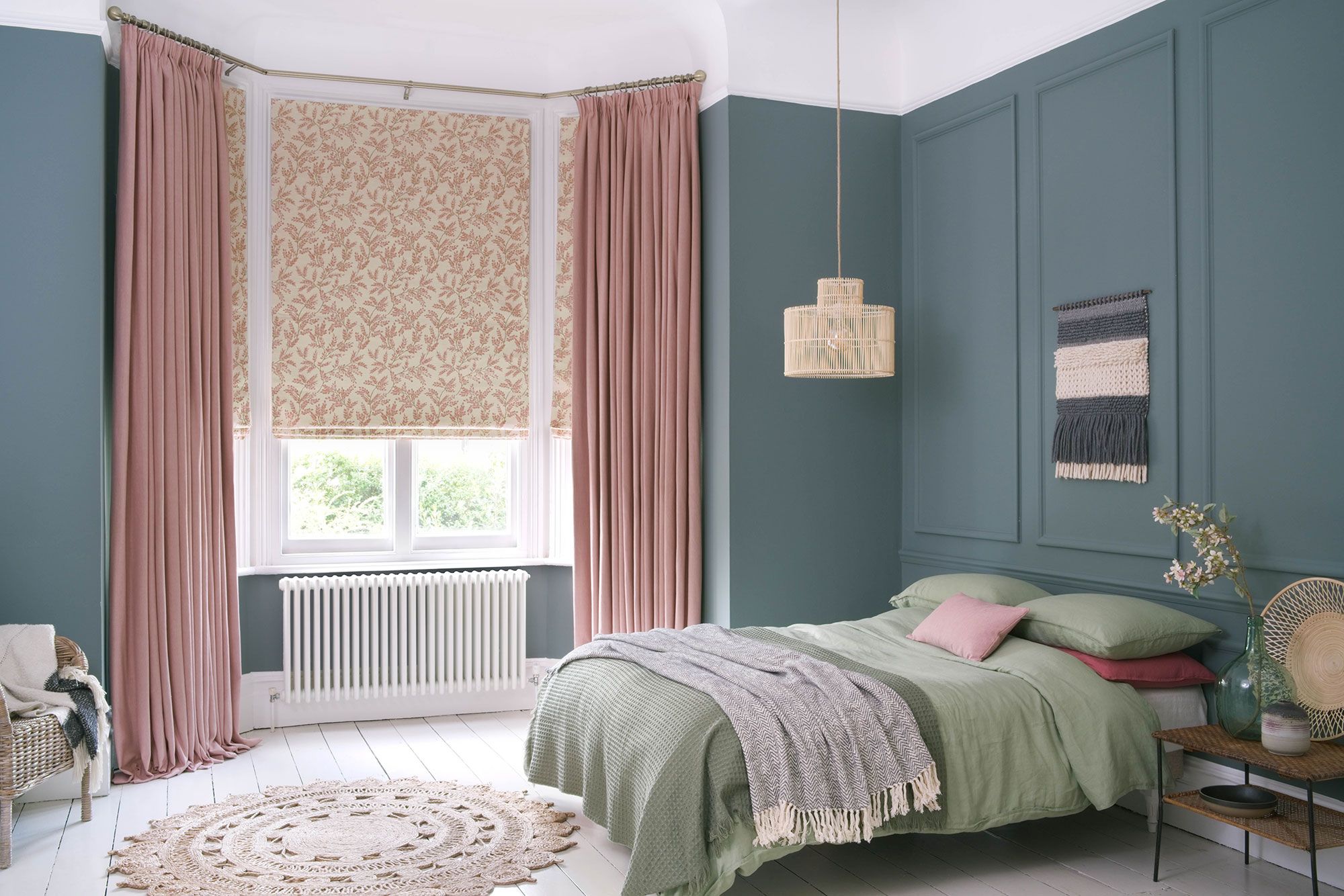 Step 3: Select Colors and Patterns
The appearance is determined in part by fabric and thickness. However, nothing is more eye-catching than the colour of the curtains. And, of course, the pattern. Curtains should blend well with the rest of the interior. Three combinations can be used for this.
Tone on Tone: Shades with different amounts of white within the same colour type. For example, white, light blue, and dark blue are tones on tones within the blue family.
Contrasting colors: Colors that are opposed on the colour wheel. For example, a yellow wall with a blue curtain or a green wall with a pink curtain. Of course, these colours do not necessarily have to "scream". For instance, pale mint green walls paired with pale pink curtains can create a relaxing atmosphere.
Harmonious colors: Colors next to each other on the colour wheel. For example, yellow and green, or orange and red. To avoid making the colours too colourful, we recommend working around white or grey tones in the rest of the interior.
Step 4: Rails or Rods
How do you hang the curtains? Which do you prefer, rails or rods? Rods are curtain rods made of wood or metal. They sit on hooks attached to the ceiling. Therefore, these rods are not suitable for bedrooms.
On the rails, the curtains are closely attached to the ceiling. The tracks are not visible. This gives a more professional and less playful impression.
Step 5: Choose the Pleats
Finally, choose the pleats. This mainly determines the appearance but also contributes to soundproofing. The more pleats, the greater the attenuation. Do you live on a busy street and have poor insulation? Then choose something with more pleats! Want an elegant look? Then you can select single pleats.
If you're still having trouble looking for the perfect curtains, Lucky Curtains & Blinds in Victoria, offers a wide variety of curtains. They also have curtain rails and rods to match your curtains.